Quality At PCHC
Transforming Lives… Transforming the Health Care System.
PCHC cares enough about you to measure the quality of the care we provide. This means you feel better sooner!
PCHC is a top quality health care organization that has received multiple national awards and recognition. In fact, Penobscot Community Health Care has been regionally and nationally recognized as a leader among the nation's Community Health Centers. PCHC has been repeatedly cited for our quality of care, patient outcomes, and technological leadership. The list of these accolades includes:
---
Transforming Lives… Transforming the Health Care System.
PCHC Was Recognized by HRSA for exceeding benchmarks in four key areas:
1) Health Center Quality Leader
– Health centers that meet or exceed national benchmarks for one or more of the clinical quality measures.
– Achieve the best overall clinical quality measure (CQM) performance among all health centers
2) Advancing Health Information Technology (HIT) for Quality
– Meet all criteria to optimize HIT services that advance telehealth, patient engagement, interoperability, and collection of social determinants of health to increase access to care and advance quality of care.
3) COVID-19 Data Reporter
– Supported data for public health emergencies with response rates of 90 percent or more.

4) Patient-Centered Medical Home Recognition (PCMH):
– Achieve PCMH recognition in one or more delivery sites.
---
NCQA Patient Centered Medical Home – Level III Recognition for 9 primary care sites
AAAHC Accreditation
---
Quality Performance

Improved in almost all the clinical quality measures in 2021 compared to 2020 data
We had a 20% Increase in our depression screening and follow-up measure with a total of 85% of patients screened for depression.
98% of patients seen in 2021 were screened for tobacco use and offered smoking cessation treatment.
84% of our Adult population had BMI screening at their visit and received counseling. This is close to a 20% increase between 2020 and 2021.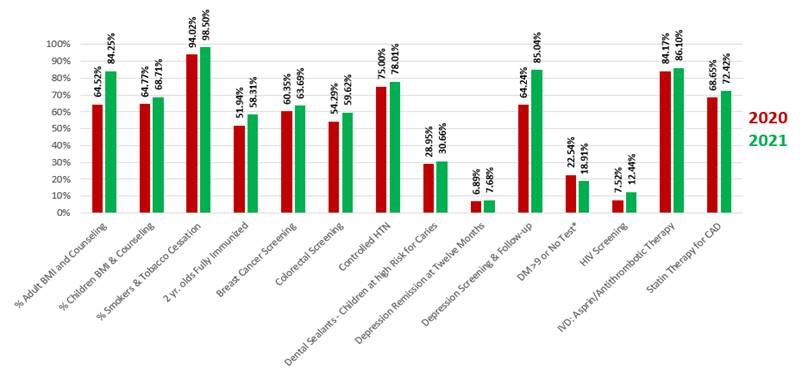 ---
PCHC Known as a "Teaching Health Center"
In addition to these awards, PCHC has been designated by the Health Resources Services Administration (HRSA) as a "Teaching Health Center" as part of the Teaching Health Center Graduate Medical Education program. PCHC is one of only 59 designated Teaching Health Centers in the country. As a Teaching Health Center, PCHC provides three nationally accredited residency programs (post-university training) as well as multiple educational programs. Educational Programs administered by PCHC include:
Two Accredited Pharmacy Residency Programs: The PGY1 Community Pharmacy Residency Program provides structured and advanced training to prepare pharmacists for a successful career in ambulatory and community settings, faculty positions, or further PGY2 fellowship training.  The PGY2 in Health-System Pharmacy Administration offers longitudinal practice experiences to prepare its graduates to become highly-skilled leaders and advocates for our profession, well-equipped managers and supervisors, and future pharmacy administrators and directors.
A twelve-month nurse practitioner residency program, that is specifically focused on increasing the clinical knowledge and skills of new Family Nurse Practitioners (FNPs), providing them with a positive transitional experience from school to practice and an opportunity to become expert providers under the guidance of an experienced mentor.
Penobscot Community Health Care is a high-quality healthcare program that delivers preventive, acute, and chronic medical and dental care to all people regardless of their ability to pay.