LGBTQIA+ Health Services
PCHC is committed to the health and wellbeing of all of our patients and communities. We strive to provide an environment that is inclusive, patient-centered, welcoming, and affirming to all.
For the past 10 years in a row, PCHC has been recognized as a Leader in LGBTQIA+ Healthcare Equality by the Human Rights Campaign. This means that our practices and policies value the equality and inclusion of LGBTQIA+ patients, visitors, and employees.
On June 12, 2020, the Trump administration finalized a rule that removes nondiscrimination protections for people who identify as LGBBTQIA+ when it comes to obtaining and using health care and health insurance. The rule is set to go into effect by mid-August, 2020. By way of this new rule, the Trump administration now defines "sex discrimination" under Section 1557 of the Affordable Care Act as only applying when someone faces discrimination for being female or male, and does not protect people from discrimination on the basis of sexual orientation or gender identity in the contexts of health care and health insurance.
In response to this decision by the Trump administration, PCHC proudly reaffirms our full commitment to caring for all patients, and specifically those in our LGBTQIA+ communities. PCHC does not discriminate on the basis of sex, sexual orientation, gender expression, gender identity or on any aspect of an individual's circumstances, including whether a patient identifies as transgender, cisgender, or at any place on the gender, orientation, or expression spectrum.
During this Pride Month we are especially pleased to once again be recognized for the 10th consecutive year as a Leader in LGBTQIA+ Healthcare Equality and we are buoyed by the recent Supreme Court ruling which affirmed that the Civil Rights Act of 1964 makes it unlawful for employers to discriminate against individuals on the basis of sex, which means on the basis or biological sex, sexual orientation, gender expression and gender identify in employment.
Our role as a community health center is to serve all, including those who have been historically disenfranchised, subjected to discrimination, and marginalized. We are, and will remain unwavering in our commitment to this work.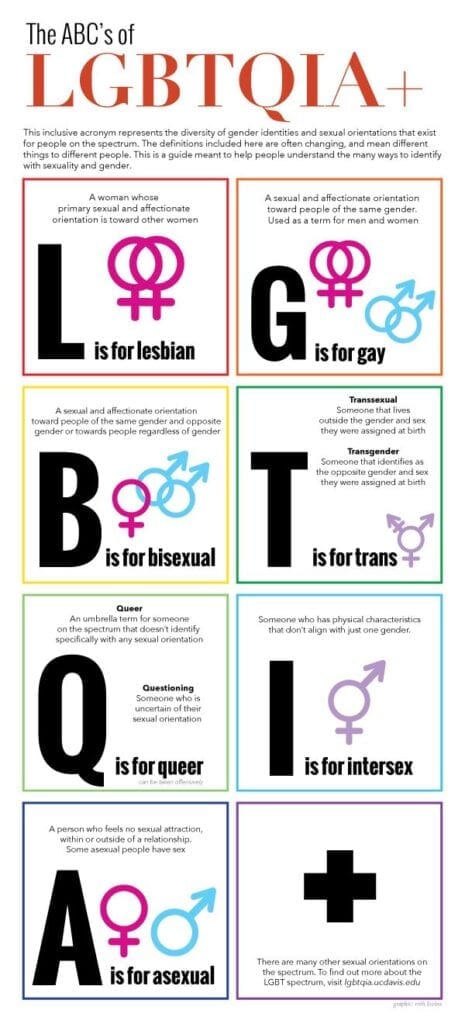 Resources
Talking To Your Provider:
One of the keys to good healthcare is being open with your primary care provider. Health professionals treating you need to know about your sexual orientation, gender expression and gender identity to provider you with the best possible care. For tips on having these conversations with your healthcare providers, go to: www.hrc.org/resources
Health Screenings:
All individuals who are born with either male or female reproductive organs—regardless of the individual's gender expression, gender identify and/or sexual orientation—may be at risk for certain conditions like breast, cervical, or prostate cancer, for example. Despite these risks, many individuals do not seek regular health screenings, like pap tests, pelvic or prostate exams, or mammograms because of fears of being misunderstood, judged, or stigmatized in the health care setting.
PCHC providers work with each patient to understand their unique and individual circumstances and needs, and our organizational philosophy and history as a community health center means that we recognize the inherent dignity, worth, and value of each and every individual. We work hard to make sure that our patients feel comfortable having discussions with providers about all of their health needs and that we structure, schedule, and provide care in a setting that is affirming and comfortable for all patients. We won't get it right all the time, but we want to learn, improve, and do better. We value feedback. We value you.
"What Do I Do?" Handbook:
Of the 1.2 million people living with HIV in the United States, roughly one in seven does not know their HIV status. Approximately 40,000 people are diagnosed with HIV each year, with one in five cases occurring among youth between the ages of 13 and 24. Gay and bisexual men and transgender women, particularly of color, continue to bear the biggest burden. For more information, visit: www.hrc.org/whatdoido
Additional Information about how PCHC ensures an inclusive, patient-centered, welcoming, and affirming environment for our LGBTQIA+ patients:
Patient and employment policies that create structures that are encouraging and affirming. For example:
LGBTQIA+-Inclusive Patient Non-Discrimination Policy
Equal Visitation Policy
LGBTQIA+-Inclusive Employment Non-Discrimination Policy
Training in LGBTQIA+ Patient-Centered Care
HEI Training Options Promoted to All Patient Care Staff
Patient Services and Support
LGBTQIA+ Patient Services and Support
Transgender Patient Services and Support
Patient Self-Identification Processes
Medical Decision Making Processes and Approaches
Employee Benefits and Policies
Transgender Inclusive Healthcare Benefits
Patient and Community Engagement Practices
Questions? Concerns?
Should you have any questions, feel free to call our Patient Liaison at 207-992-9200
LGBTQIA+-Knowledgeable Providers
Stephanie Nutt, PMHNP-BC
Carol Kuhn, MD
Samantha Gilligan, FNP
Amy Langley, FNP-C 
Deb MacLean, PMH-NP
Matthew Nutt, LCSW, CCS
Merri Beth Bumpus, LCSW
Frank McKnight, LCSW
Colleen Owens, LCPC
Karen Dawson-Gardner, LMSW-CC
Stephanie Hamlin, LMSW-CC