2022 Employee of the Year
August 8, 2022
During our August Spirit Week, PCHC is excited to announce our 2022 Employees of the Year! Each day from Aug. 8 – 12 – we will announce a batch of EOTYs from our locations and departments. On Friday, Aug. 12 we will announce our organization overall winners. Please check out our daily annoucements and writeups of each of our deserving winners below:
Thursday – Aug. 11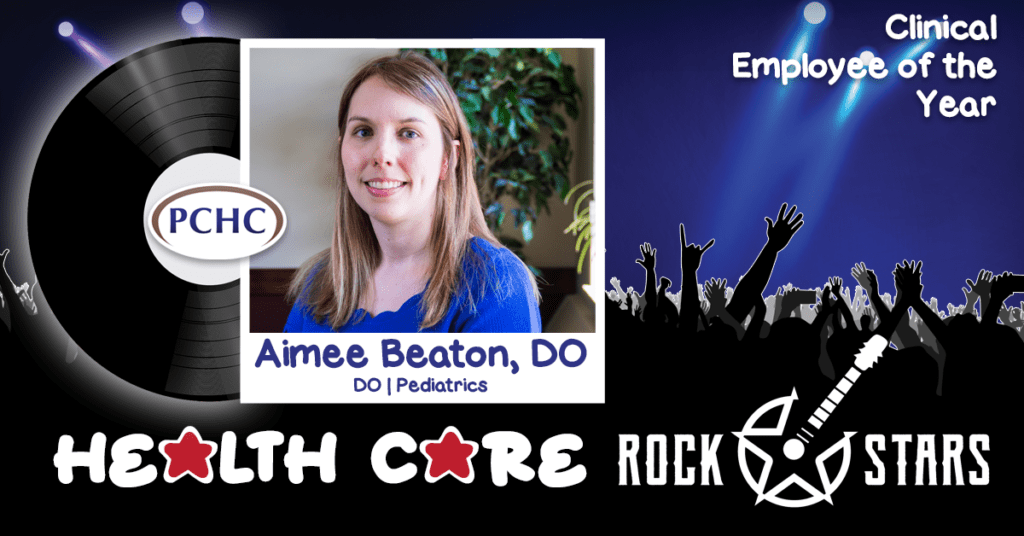 Dr. Aimee Beaton has been chosen as the clinical employee of the year for Penobscot Pediatrics, Warren Center, WOW, and Jackman. Dr. Beaton is always there for her patients as well as for her colleagues, and always with a smile on her face. Her positivity is infectious and helps immensely with overall morale in many ways including impromptu "90's Trivia" games. Dr. Beaton whole-heartedly embraces our mission at every opportunity. This is evidenced by her consistent and respectful engagement with the families she cares for, provider colleagues, the support staff, and her community. She is a passionate advocate for quality care and a role model for all. She prioritizes meeting her patients and their families where they are, removing any barriers that might stand in the way. Dr. Beaton will, during any given day, support a newborn and their family then tirelessly coordinate to assure her older patients smoothly transition into adulthood as a new PCP found. She serves as our Joy in Medicine liaison and brings us much joy here at Penobscot Pediatrics.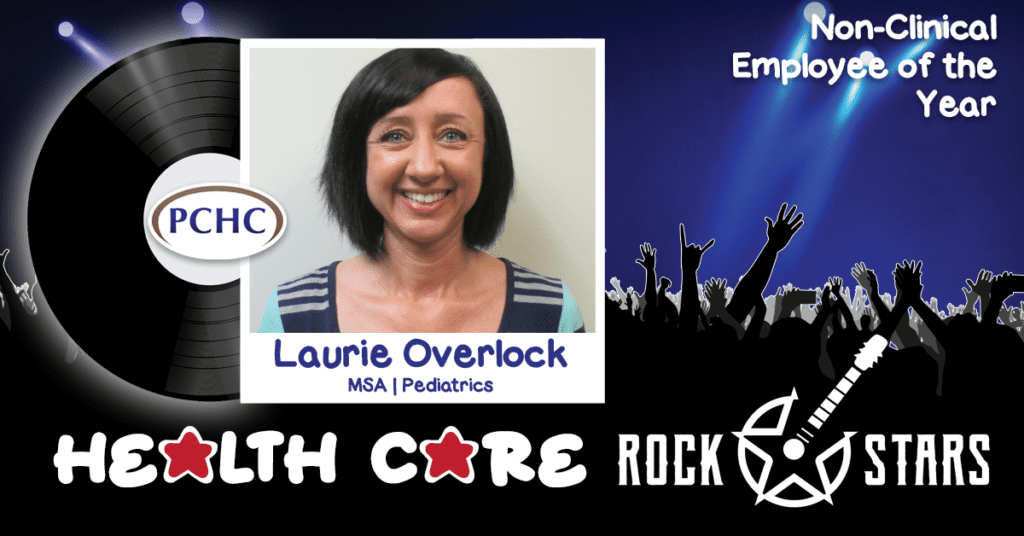 Laurie Overlock is our non-clinical employee of the year for Penobscot Pediatrics, Warren Center, WOW, and Jackman. As part of her MSA role, Laurie has consistently taken on new challenges with determination and enthusiasm. While supporting the WOW program and our Mental Health team, Laurie provides respectful, caring, and compassionate support to the patients and families. Laurie will take on new assignments with a smile including filling in to cover another role when an unexpected need arises. The providers she supports appreciate her extra effort, attention to detail, dependability, and ability to collaborate with many different teams. Each day Laurie is able to prioritize and juggle multiple demand all while maintaining a genuine positive attitude with co-workers and patients.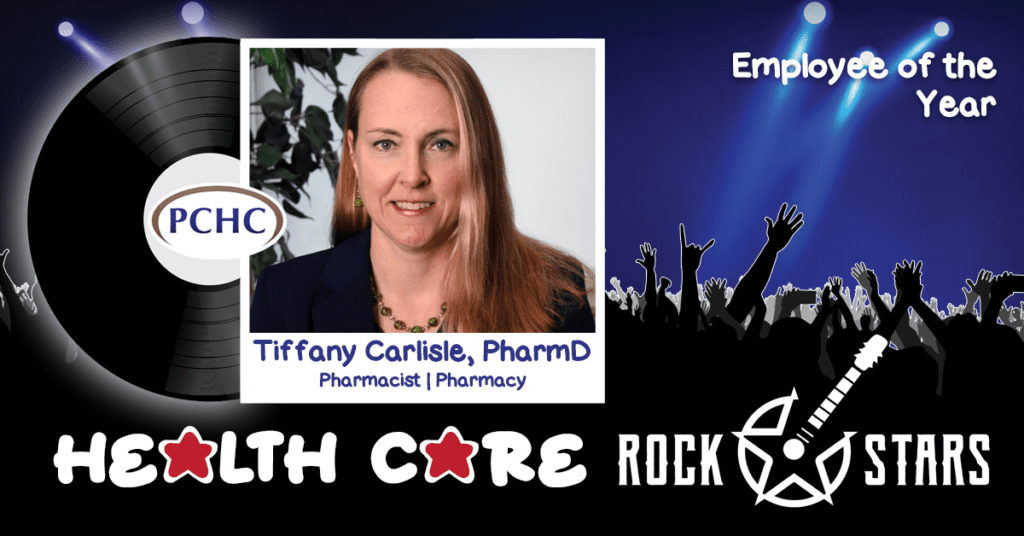 Over the last two years and to a great extent this past year Tiffany was the person that helped coordinate Covid Treatment Services for PCHC Staff and patients. She developed and coordinated with St. Joseph's hospital a process to have all staff and patients get monoclonal Covid therapy at SJH and NL as needed. Tiffany needed to set up forms, communication links and numbers, staffing for the clinic, contact patients, and lastly 'staff the clinic' herself. When the tablets became available Tiffany jumped into making a prescription form that also served as a Covid qualification/treatment guide. She worked with the PCHC MA staff to create a desktop notification process to get patients into treatment quickly after testing positive. It seemed that every week a new change occurred with treatments that required Tiffany to update, retrain, and get the PCHC staff updated materials. Tiffany has also been the PCHC person to order the medications from the HRSA HPOP site and collect patient data to be reported back to HRSA.

All of this Covid Treatment process occurred while Tiffany maintained the PCHC Infusion Service, she worked in the Helen Hunt Pharmacy, she was a preceptor under the UNE PCTE provider grant, supported the Hepatitis C treatment process, and maintained a high level of positive support for the Pharmacy Admin Team and all PCHC Staff and Patients. Tiffany had to postpone her trips and vacations over the last couple of years, like many, and she always was there to help make the next change or take the next shift to show that she, as a pharmacist and PCHC staff members, supports and cares for the PCHC staff and patients. Recently, Tiffany was able to be part of a HRSA White House presentation on 'test to treat' Covid. Tiffany was able to give the PCHC story of how this organization rallied around each other to offer treatments to our staff and patients. Tiffany's dedication and 'can-do' attitude is one of the best examples the PCHC Mission and Vision that PCHC has to offer and we have many, many others as well. Thank you, Tiffany!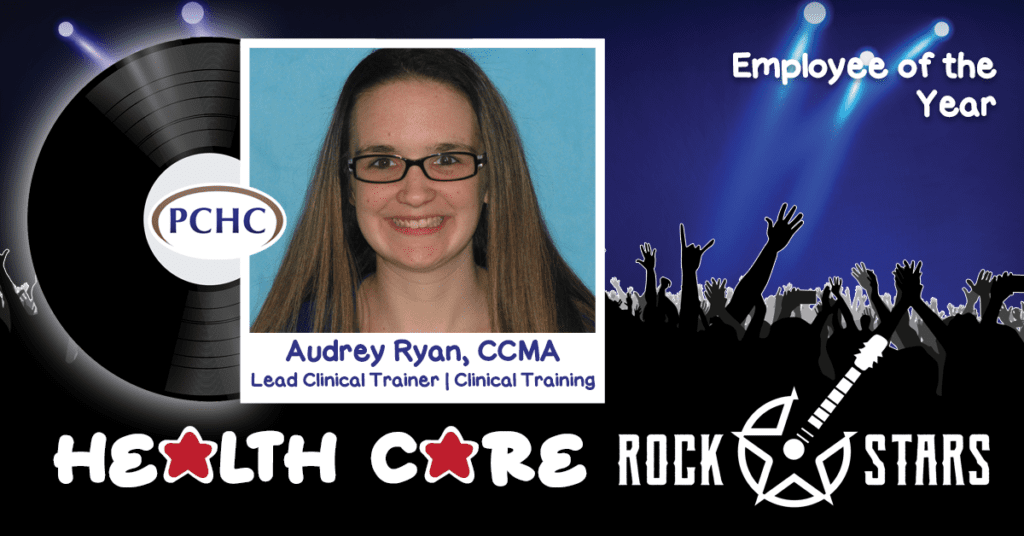 Audrey shows the utmost respect to all of our new MA's coming in for training and she is focused on providing all of the knowledge they need to be successful here at PCHC. Audrey shows a lot of passion in her MA Lead Trainer role. She strives daily to make sure the MA's coming into the practice are trained properly and serves as an example of what PCHC values. She makes sure that not only do the new MA's show respect for fellow staff and patients, but she gives them the same respect. She is constantly updating the MA training manual and providing the most recent information to our upcoming MA's She has demonstrated passion and dedication to and for the MA role as she has been instrumental in developing and launching our on-the-job training program for MA's. She has demonstrated that she is a strong and reliable team player by giving many, many COVID Vaccines to our patients in our community and all the while with amazing enthusiasm and respect for our patients. One co-worker shared that "In my 8 years at PCHC I have never met another employee who is so passionate about their job". She puts everything that she is and has into making sure that the new MAs are prepared for the position. She makes sure that all quality measures are discussed, understood, and is always trying to make things better. Audrey is always looking for ways to better herself and the staff she works with. Audrey is always willing to help whoever needs it regardless of where they work or what is needed.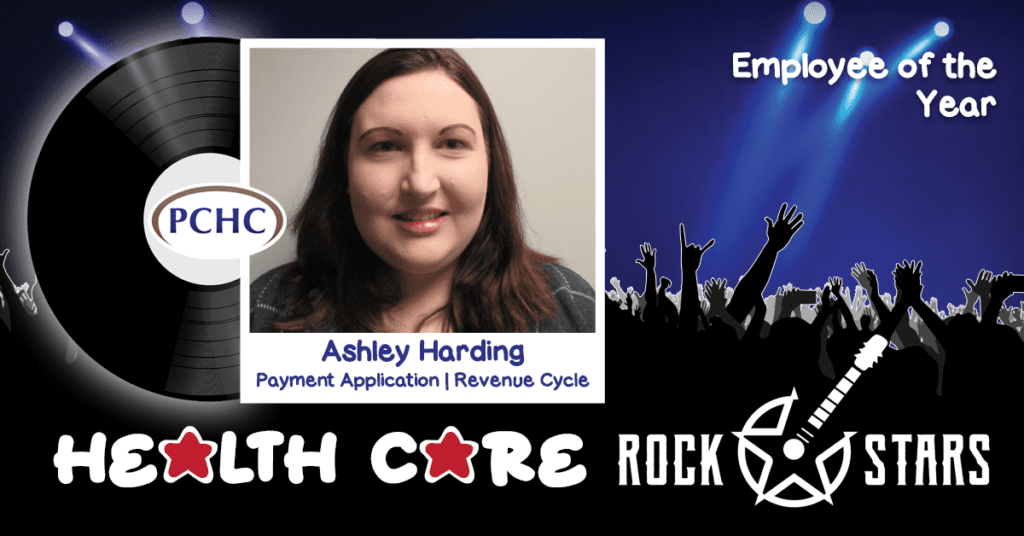 Ashley has been an asset to the Revenue Cycle Team since she joined PCHC in 2019. Ashley exemplifies the PCHC mission and values in many ways. She goes above and beyond to ensure the quality and accuracy of her work. Ashley will take on additional assignments, and when workflows change, is able to pivot to meet the demands to ensure success within the department. Ashley collaborates with her team members and leaders to troubleshoot and solve issues as they arise. She is respectful of others and will step in to mentor new teammates. Her positive attitude shines every day.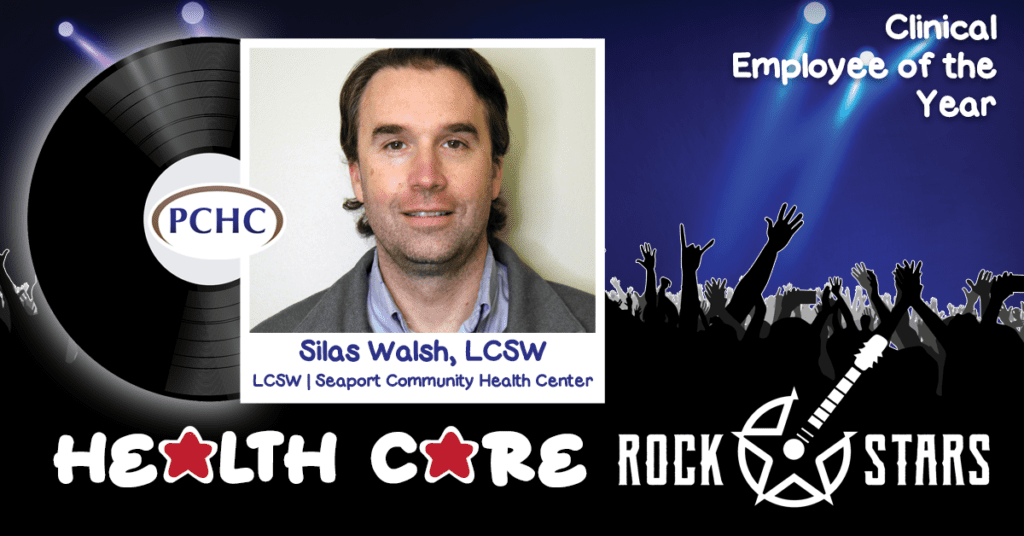 Since joining Seaport Community Health Center in June 2018, Silas has been a loyal therapist deeply committed to the Waldo County and Seaport community through clinical practice, leadership and collegiality. He provides calm, unwavering support to all staff members and can always be seen with a smile on his face. For several months in 2021, he was the sole therapist here at Seaport. During this time, he was not only providing leadership in our recovery program, but also running four weekly recovery groups and meeting the mental health needs of our primary care patients through individual counseling and support to our primary care providers. Silas epitomizes PCHC's mission: he meets the mental health needs of the underserved, while going above and beyond to provide guidance and leadership at the practice level. We are deeply grateful for all of his work he does for our patients and the joy he brings to Seaport.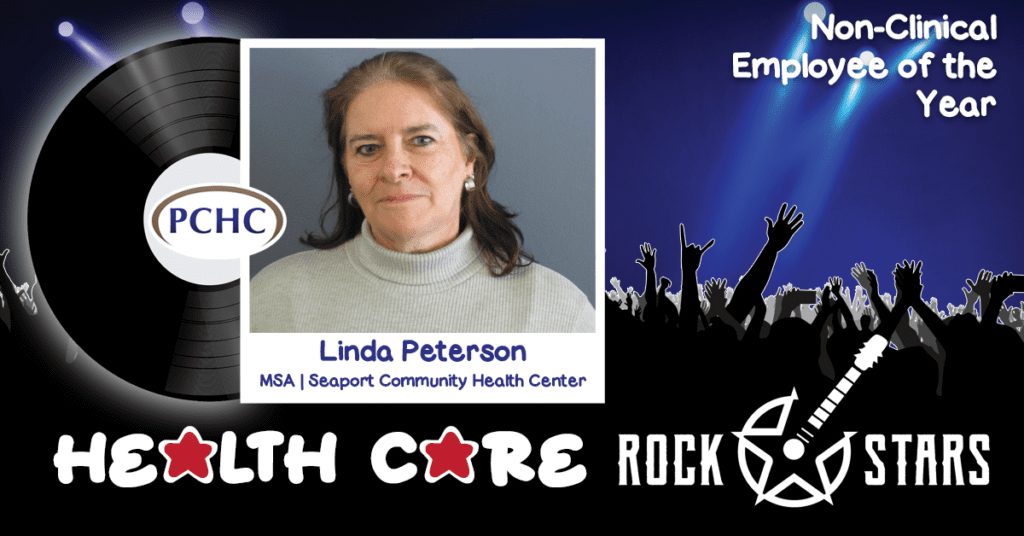 Linda has been a valued resource to the Seaport family since August of 2016. During her time here, Linda has worn many hats and in May of 2021 moved into her current role as a Medical Support Assistant. Linda quickly became a corner stone for patients and staff in this new role. Linda's calm presence, patience and thoughtful approach made her a perfect fit to support our Behavior Health, Medication Management and Recovery providers and their patients. She demonstrates daily a commitment to quality, schedule management and ensures that patient have what they need timely. Linda has established an open line of communication with the clinical staff and patients that she supports. She not only managed her seven providers schedules in 2021, but she also has had the task of managing referrals for Med Management, Recovery and BH here at Seaport. Linda has been dependable and dedicated to her team, patients, and clinical staff day in and day out! We appreciate all that she does to keep us moving forward every day!
---
Wednesday – Aug. 10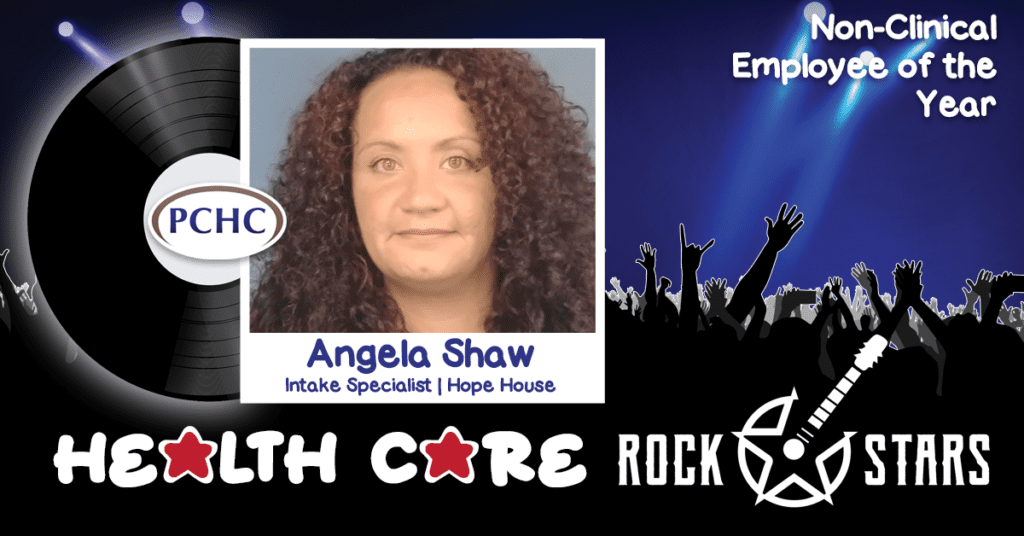 Angela is a warm and calming presence. She is the voice on the phone who invites guests to come in. She is the first person to meet with guests and welcome them to the Hope House. Angela's mission-driven focus is always on the guest; she is approachable and always ready to assist. Expressing great empathy while maintaining boundaries, Angela embodies the mission of PCHC.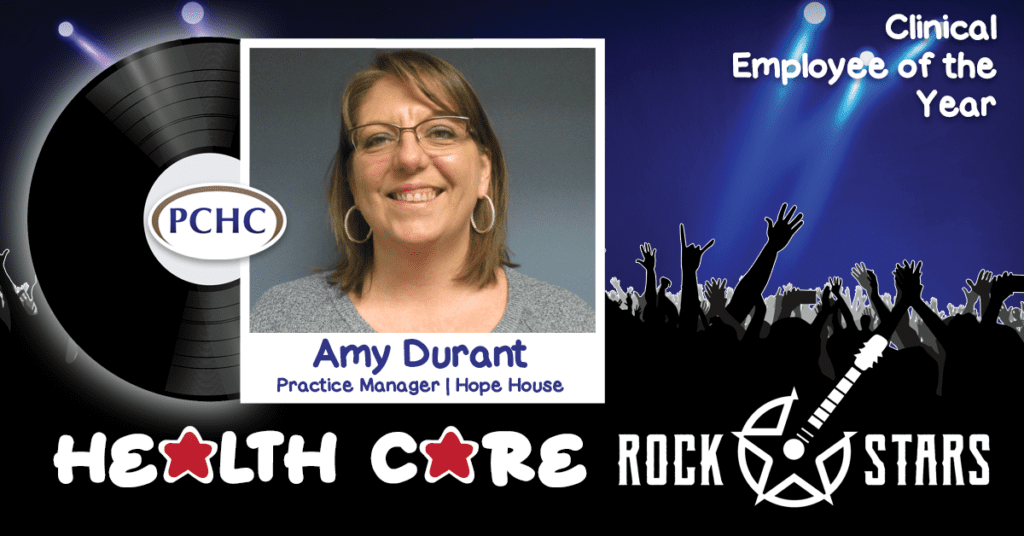 Amy has defined what it looks like for healthcare and our population. She understands that there is no wrong door approach to care and services. She has expanded what we can do here at Hope House. She is incredibly charismatic, empathic, passionate, and most of all a leader. She embodies the spirit of PCHC and most importantly the Hope House. When Amy gets involved, you know that the world is changing for the better. She has a fire in her that has brought a difference to those she meets, and we feel grateful to have her on our team!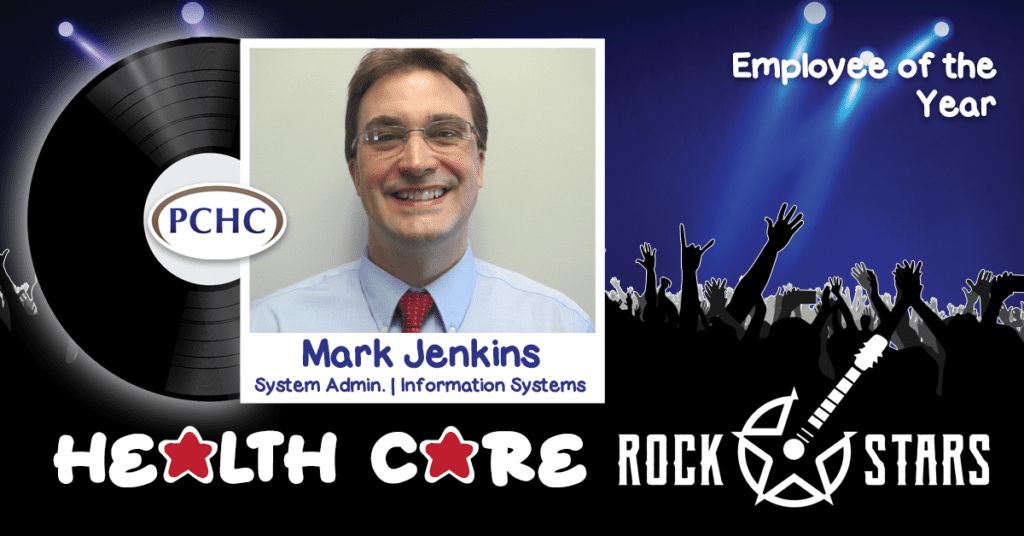 Mark embodies PCHC's mission, vision, and values. One of the notable projects he has worked on in the past year that illustrates this was the planning and phased rollout of Single Sign-On/Tap & Go. This project has improved the patient experience by making it easier for our employees and providers to interact with the technology they use during patient visits, while at the same time helping to secure the information we protect. Mark has also shown a lot of innovation when it comes to the improvements, he has made with IS Service Desk. He has created new workflows, and expanded its use to other departments, allowing better collaboration between departments. He exhibits a passion for his job, frequently coming in early to make sure systems are up and running before PCHC opens. His broad knowledge, willingness to learn, and quality customer service have earned him great respect by his peers.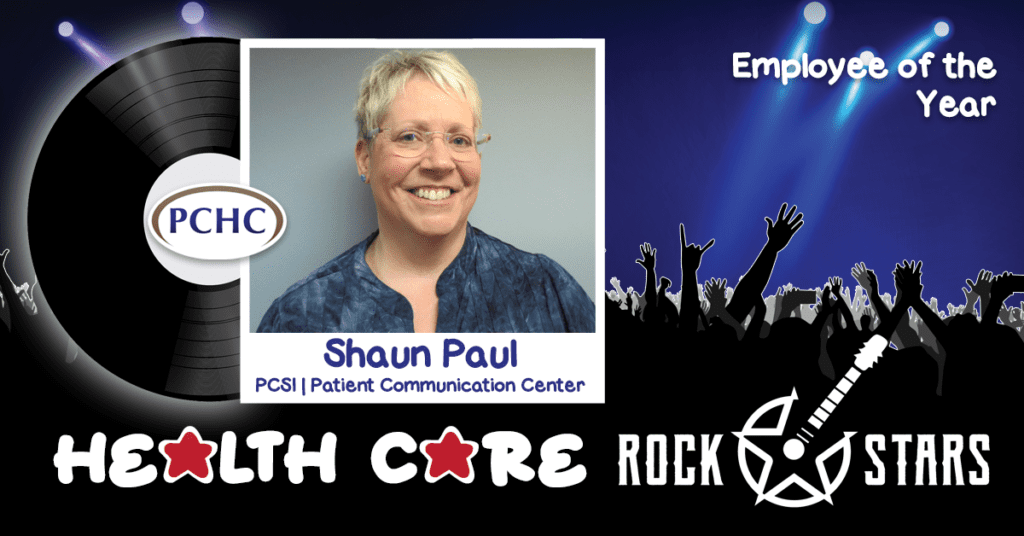 I have witnessed Shaun on the phone on numerous occasions where a patient was very upset, rude or just mean and she has always remained calm, kept her voice respectful and always strived to help the patient end the call on a better note than it had started.

Shaun loves her work and loves working remotely. She is grateful for the work she does and her purpose with being patient focused.

Shaun has a personality where she is able to get along with anyone. She is a lot of fun but also knows how to be professional.
If Shaun thinks of something that is beneficial to the PCC she is very forthright in bringing it to the leadership team.
All in all, Shaun is a very dedicated employee. She works hard, is reliable and always puts our patient's first. Shaun continues to meet and exceed all metrics, including her Quality Audits. She is a true team player and we are so lucky she is part of the PCC.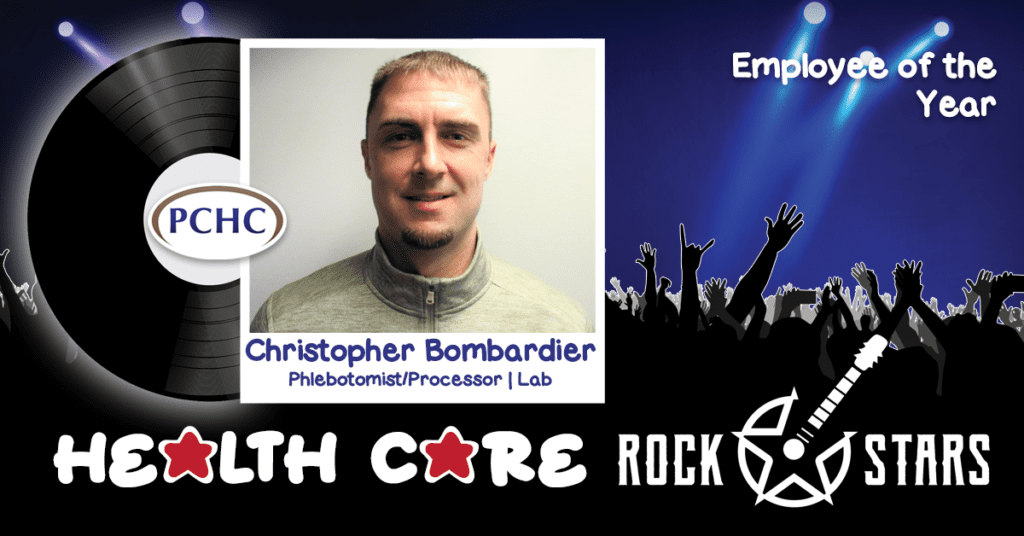 Chris exemplifies our values and is respectful, professional, kind and caring to all who come to our main lab. He brings energy, passion and focus to his job and goes the extra mile, whether to offer comfort or assistance with directions to a different location. Patients often request him specifically.

Chris has worked hard, often under difficult circumstances including staffing challenges and COVID-related workload increases. He is considerate of his colleagues and consistently offers to help when he can and to lighten the workload for others. He communicates effectively with satellite labs when we implement workflow changes.

In short, Chris is a wonderful team member and PCHC is very lucky to have him!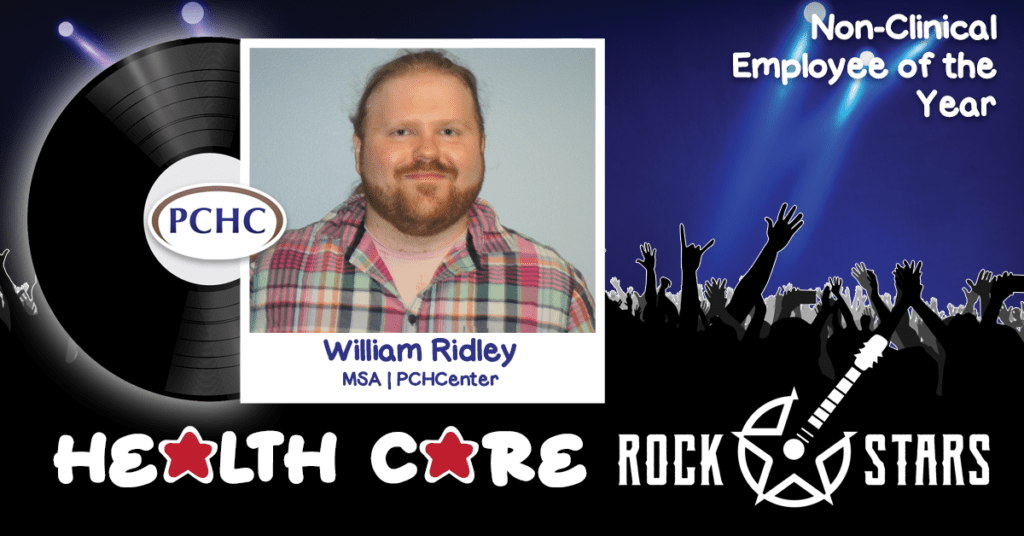 It is a great honor to announce William Ridley as our Administrative Employee Of the Year (EOY). After thorough consideration and review of all the nominees, his work record exceeds expectations and well deserving of this award. His record that includes punctual attendance, participation in social activities, positive attitude, and energy among others have shown that he has given this company more than we could ask.

William is instrumental at our practice. Because of his hard work and dedication, we have been able to provide the best care possible for our patients. He has always been honest and authentic. William's perseverance and overall conduct are incredible. He is a source of inspiration and encouragement to other employees making him an approachable person to talk to. On countless occasions, he has been of great help to many of our patients.

We are elated to announce this selfless employee for this award because he deserves it. To bestow him with this award will surely allow him to see that this company does not take him for granted. Recognizing and appreciating him for work well done is a great offer to give him.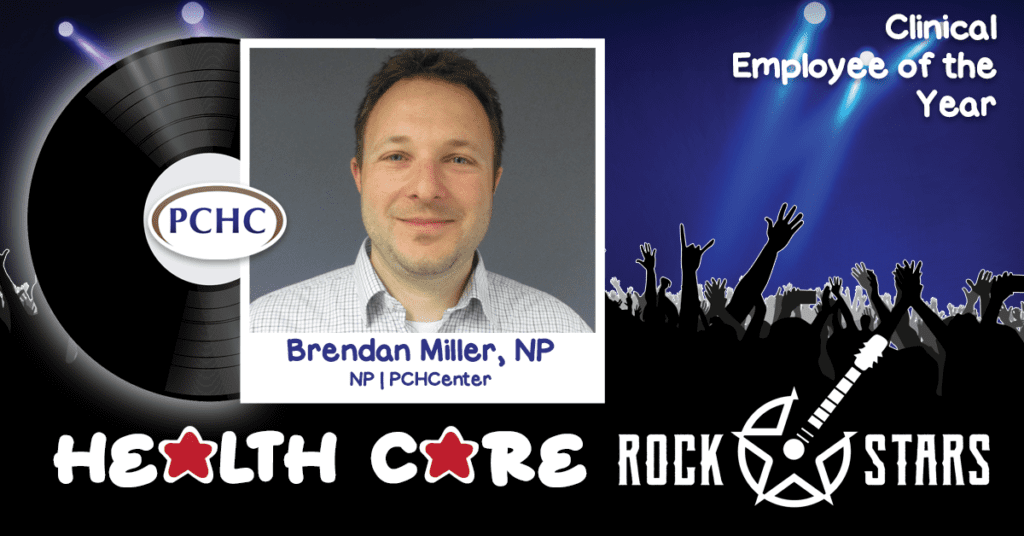 It is a great honor to announce Brendan Miller as the Clinical Employee of the Year (EOY). After thorough consideration and review of all the nominees, his work record exceeds expectations and well deserving of this award. Brendan has been a full-time employee at PCHC since 2017 and is known for his high standard of performance. He cares for patients and family members with respect and dignity and is a great asset to PCHC as well as the local community.

Brendan is well known throughout PCHC for his compassion and energy. He is always courteous and helpful to others. He is highly respected by his peers and appreciated by his patients because of the way he treats others. Brendan adapts his plan of care to include and meet the age-specific and cultural needs of his patients. He is seen as a very positive person of the team. Brendan is efficient and thorough in his work and finishes the job in a timely manner. The combination of his high ethical standards and vast experience enables him to be an excellent mentor to other employees. He is highly respected by those with whom he comes in contact and is an exemplary role model to others.

Brendan represents PCHC well as he strives for excellence in problem solving and patient care. He shows great concern for the welfare of others and is actively involved in finding solutions to difficult challenges. Brendan provides excellent care to his patients, often going the extra step to make sure the patients and family members are comfortable and secure. Brendan is an example of the PCHC mission statement, "Providing comprehensive, integrated primary health care services for all to improve the health and wellbeing of our patients and the Maine communities we serve
---
Tuesday – Aug. 9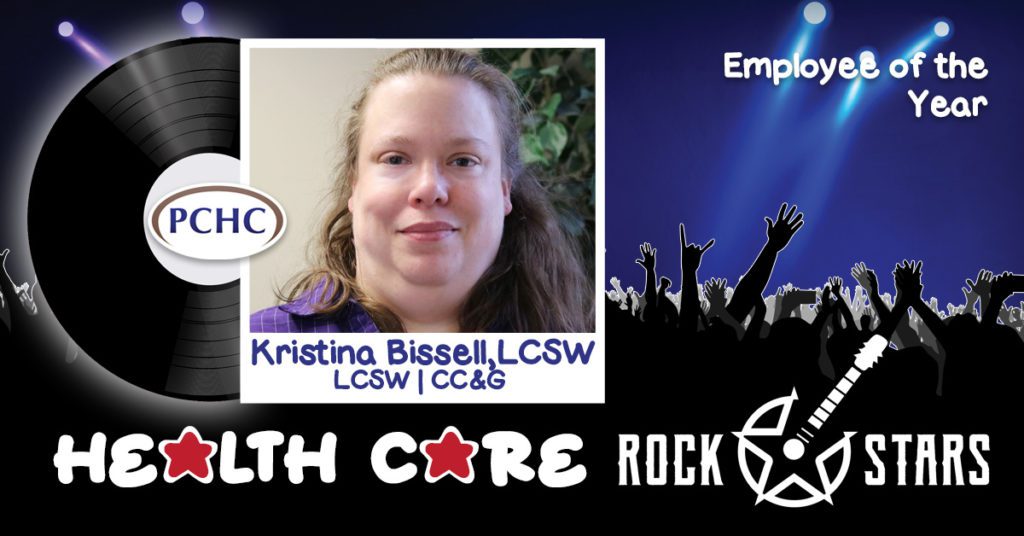 We are pleased to have Kristina Bissell LCSW as part of our team and are proud to have nominated and chosen her for CCG's Employee of the Year. She clearly embodies the PHCH values of respect, compassion, collaboration, respect and innovation.

Kristina is incredibly respectful of her patients and their situation. She is empathetic and takes all variables into consideration while providing them with the utmost support. Kristina is a very compassionate person. She is always thinking of others and goes above and beyond to make sure she conveys this to patients and peers. She believes in the mission of PCHC's work and has an emotional commitment to her work.

Kristina works well with all team members to try to reach goals. She touches base regularly with nursing home staff, medical assistants and providers. Kristina listens fully when visiting with her patients in the nursing homes. She finds a way to hear and "see" who the patient really is in both a complicated setting and when some of the ways she might "know" the patient are compromised such as poor hearing, limited sight or aphasia. Time spent is meaningful and she is fully present for their session and is an excellent advocate for her patients. She focuses on their individual needs and makes every effort to provide them with support by any means possible. She delivers quality care to her patients. She is committed to serving our community. She has always looked for ways to adapt work flows for the better quality of care, especially during the pandemic. She challenged the restrictions in nursing homes to advocate for her patients mental health and took charge in making sure they were seen, heard, and made family connections to improve their emotional/mental health and their quality of life.

Kristina continually challenges herself professionally in order to better serve her patients. She seeks out educational opportunities to make sure she uses best practices and evidence based care. She takes on students willingly and enjoys sharing her knowledge. Kristina is a delightful addition to our team of providers and we are so grateful for her dedication and loyalty to our department. We are always assured that our patients are in the best of hands and truly respect her work ethic, compassion and optimism in the work that she does!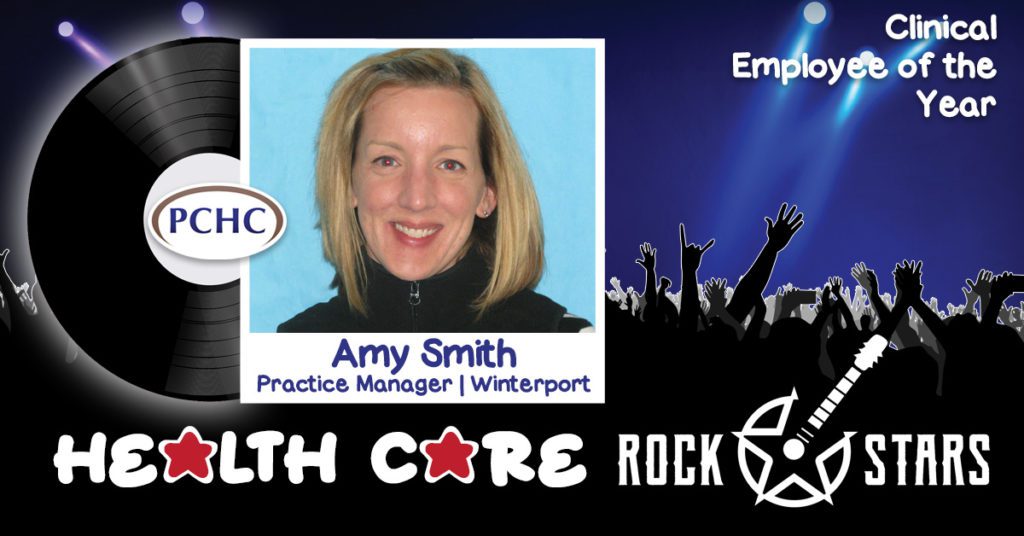 Amy is our Practice Manger, but is she is so much more. Because of our size, the practice manger role encompasses the duties of COS, back up PAS, and HCAA. Besides running day to day operations, you will often find Amy in scrubs helping her team wherever needed. .Her leadership is described as consistent in times of change, inspiring and trusted. From rooming patients, to difficult blood draws, championing our morale committee and troubleshooting our IT issues- she is truly the glue of our practice. Sound like a full plate? Wait, there's more! Because of Amy's vast experience in healthcare and years with our organization, she often lends herself as a resource to others for projects, such as Seaport's EMR transition, time at Brewer when they were down COS's and jumped into action for vaccine clinics. She keeps open lines of communication with other departments and brings unity across the divisions. All of our sites are uniquely different, yet have the same mission and goals. Amy is a hidden hero who brings a calm and peaceful presence to our small town health center no matter how many balls she is juggling. Thank you, Amy for all that you bring to our employees, patients and the community every day.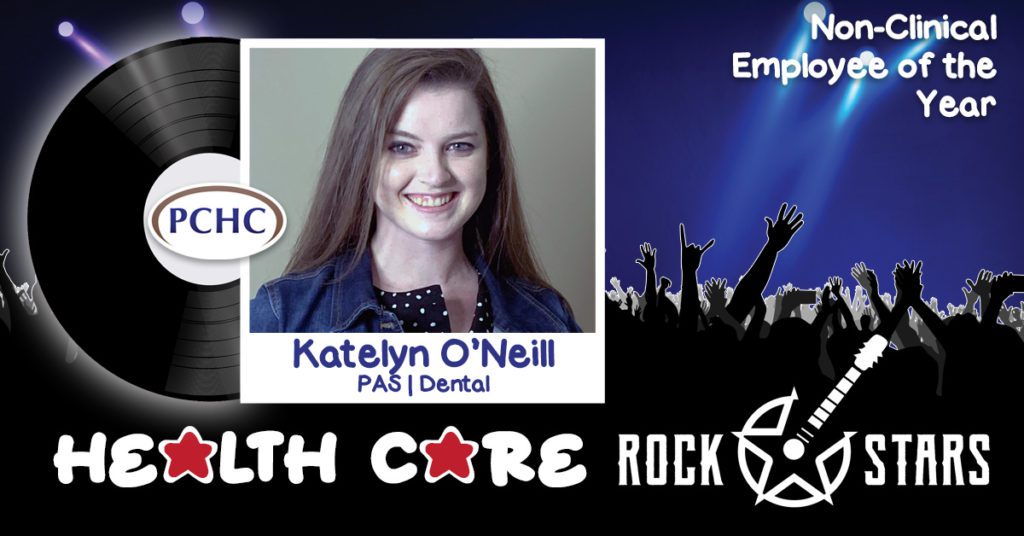 The Dental Center would like to nominate Katelyn O'Neill for the 2022 Non-Clinical Employee of the Year because of her outstanding contributions to the Penobscot Community Health Care Dental Center. Since being hired in 2011, Katelyn has truly embodied PCHC's mission, vision, and values.

The Dental Center has certainly seen very difficult challenges throughout 2021 and 2022 yet Katelyn remained a constant leader for her team and for the organization through these complicated times. She remained confident, positive, and progressive in her leadership style. She unquestionably led her team among others during a year of transition. During moments of difficult decision making, Katelyn chose to lead with the vision of success for the Dental Center rather than other options that were less difficult and easier to navigate.

Katelyn leads as a collaborative supervisor who relies on her team to help guide her with appropriate decisions and suggestions for the Dental Center. She welcomes her team and/or anyone else to ask questions or give feedback for areas of improvement or recognizing concerns. She remains to have a constant and positive demeanor for all those around her. She is approachable to her team and a trailblazer to her colleagues.

Without fail, Katelyn ensures that the Dental Center is always patient-centered and continuously advocating for the patients. Leadership meetings often focus on the topic at hand and how it impacts the team, individuals, and patients but sometimes we become so focused that it is Katelyn who will reminds us of the challenges that our patients face and how specific actions may impact them. Katelyn along with others, continue to keep the Dental Center grounded and mission focused day after day.

When referring to Katelyn, it's typical for dental staff as well as other staff within the organization to quickly say, "she's great" or "she knows her stuff" but that does not begin to explain how valuable Katelyn is as an employee but also as a leader for PCHC. Katelyn will continue to thrive and succeed for PCHC and the Dental Center, as she is devoted and faithful to this organization and to the patients of PCHC. Katelyn O'Neill is the Dental Center's 2022 Non-Clinical Employee of the Year Nominee.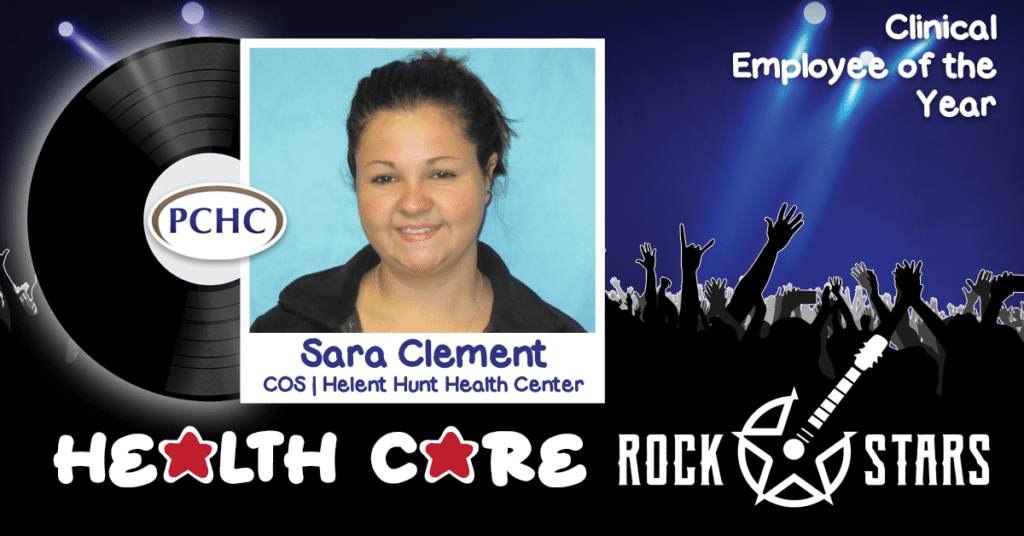 Sara goes above and beyond for her patients. She strives to give them the care that she would want herself or her family to receive. She advocates for her patients and puts in the extra time needed-when needed, to ensure that her patients are okay and that they receive everything that they need during their visit with us. I have had the pleasure of working with Sara for the last 5 years. I have watched her grow into an amazing supervisor. Her team trusts her, they look up to her, they come to her as a shoulder to lean on and for sound advice. The providers in this building could tell you 1,000 stories of how Sara has helped them or helped make their day easier/better. regarding patients, she strives to put herself in the shoes of her patients, and makes sure that she understands them as a whole human. Their situations or what they may be coming in for, does not change how she feels about them or how she treats them. She is a kind and gentle human, and I hope you all have the chance to know her. Sara's passion for health care, helping people (whether it be patients or her team), and being the best supervisor that she can be, is amazing. At the end of the day, it's not just a job to her, it's a commitment to helping others. It can be demanding and challenging, but also rewarding, so you need to really love what you do. And Sara shows this every day. It's about having the right attitude and getting up each day, excited for what lies ahead, knowing you will be making a difference – however big or small. Sara does this. Even on hard days, she comes in with a smile, willing to tackle whatever the day brings, and she does it all with a smile.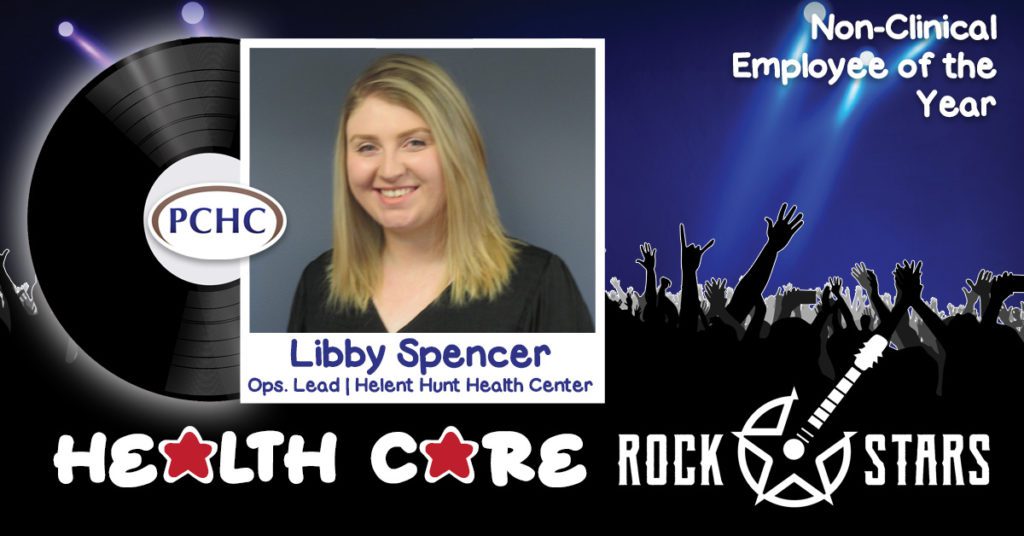 Libby is the Admin Operations Lead and has been for only a few months, but she has exceled in that time. She is directly responsible for training new staff, assisting them with any questions about policies/procedures, acting as a support system for staff, and working with me to ensure the patients receive the best possible care. She came to us without any medical experience, but she has learned the system very quickly and became the Lead after just under a year and a half of being a PSR. We have undergone a lot of changes and sometimes more than a bit of chaos, but she handles it in stride and adapts to the new workflows extremely well. Libby takes initiative when working new projects and makes sure to pass on her knowledge to other staff. I am very happy to nominate Libby and I believe that she truly embodies the mission and values of PCHC.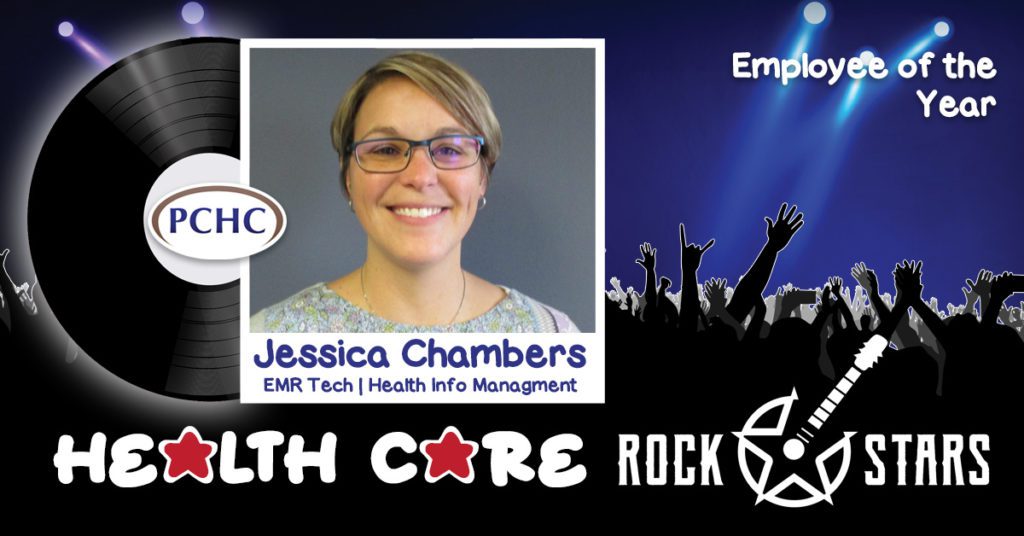 Jessica is a major asset to the Records team. She is very knowledgeable surrounding releases, always willing to learn, and comes to work with a positive attitude. Patients come first with Jessica, and each day provides our patients with outstanding customer service. She does everything within her power to help a patient on the phone, process releases in a timely manner, and uses resources at her disposable. She actively participates in group meetings and huddles, which encourages others to speak up as well. She offers constructive criticism when new workflow models are introduced, which leadership greatly values. Jessica shows respect and works well with her team, helps those with questions, and has taken on new projects assigned to her with a smile. Thank you, Jessica, for the hard work you put in everyday, your dedication has not gone unrecognized.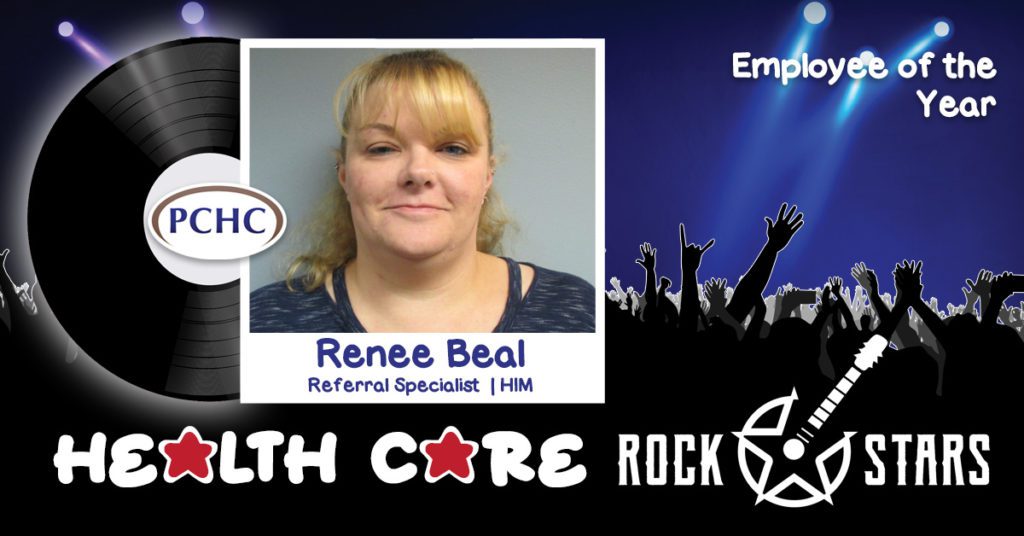 Renee Beal has been with PCHC almost 3 years. In that time, she has shown herself to be a valued employee that goes above and beyond both for our patients as well as her teammates.

Renee has become a mentor to the Referral staff and especially to new employees. She has given the introductory tours to new employees and answers multiple questions daily with patience and humor. Renee brightens up the workplace with her smile and her positive upbeat attitude.

Renee has also worked to help patients get their pre-certs urgently and tirelessly make changes that the facilities and providers ask with no complaint. She has willingly trained for additional duties in Referrals to help in short-staffed areas and has always agreed to work overtime when asked.

Renee is very knowledgeable of the many changes that the insurance companies make and is always willing to share this information as well as her tips and tricks to make the pre-cert team run more efficiently.

Thank you, Renee, for the hard work you put in everyday, your dedication has not gone unrecognized.
---
Monday – Aug. 8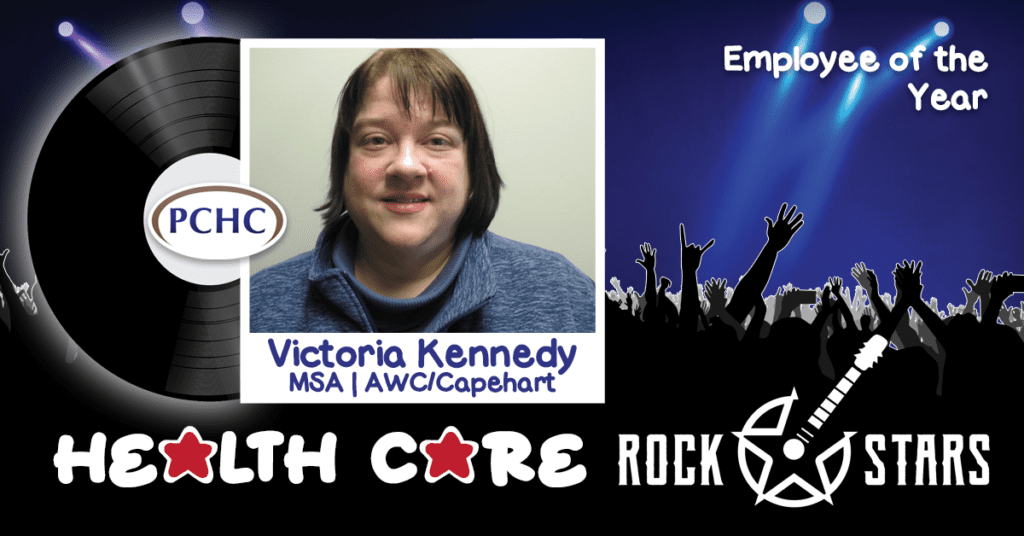 Vickie Kennedy is an employee who exemplifies all the traits that drive people into care centered professions. As a Medical Support Assistant (MSA), Vickie works to ensure that patients can get into the clinic and be seen, as well as using reports to track patients who may have not had an opportunity to schedule. Her dedication to this work gives patients a sense of comfort knowing someone so kind and compassionate, is working behind the scenes for them. She treats her interactions with patients with respect and humility. Often, Vickie shows great initiative by taking the extra task, going that extra step for a patient, or assisting coworkers with her immense knowledge of her role. She is genuinely pleasant and any interaction with her, is always so pleasing in such tumultuous times. Vickie makes a meaningful impact to the work done by all of those around her and this, combined with such an amazing patient forward approach, makes her an employee anyone could emulate.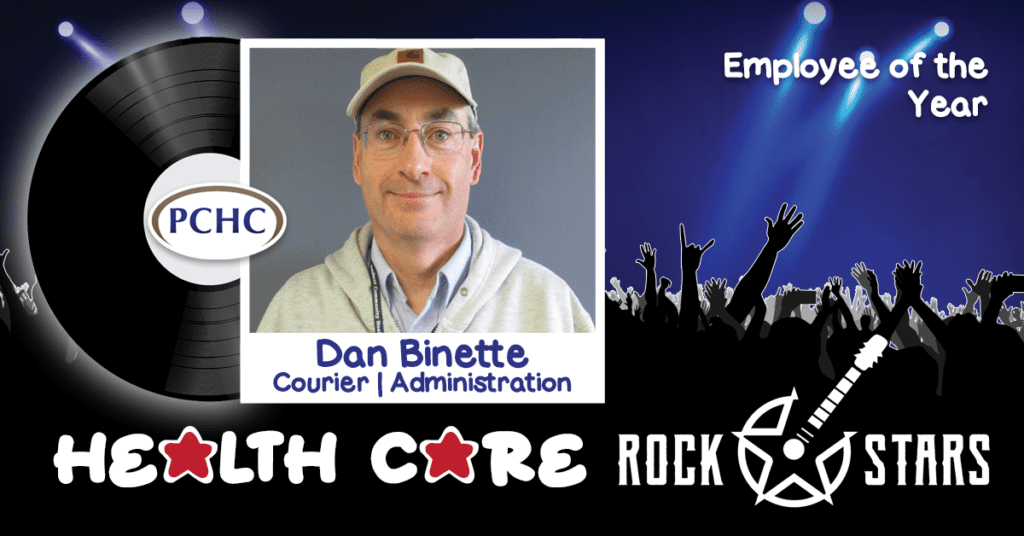 It is hard to explain how much Dan does each and every day for PCHC but let's start with the beginning! In early 2013 Dan came to work for PCHC as a full-time courier. Before coming to work for PCHC Dan had worked for many years for Records Management as a courier and has spent most of his working career in the healthcare environment. A little-known fact is that Dan spent time working as a certified x-ray tech in local hospitals!

As the only full time Courier that PCHC has on staff, Dan has been the most dependable and adaptable employee one could ask for. If something is needed at a practice in a hurry Dan will make it work with the schedule and get it taken care of immediately…without complaint. Dan makes close to 30 stops a day in his daily job routine and is very punctual and knows what is needed at each location. Dan drives approx. 25,000 miles a year in the courier vehicle which may not sound like a lot but it is a huge amount of miles when your territory is the greater Bangor area! Another fact about Dan is that he and his wife moved to Sherman Maine a few years ago and he commutes daily from Sherman to Bangor to jump in the courier vehicle and serve PCHC. Dan drives a total of approx. 80,000 miles a year!

I met Dan over 20 years ago when we were living in the same Hermon neighborhood and much to my pleasure when I came to PCHC Dan was here! I have had the privilege of not only knowing Dan but working with him for 9 years now and have always been amazed by his drive (pardon the pun) and his excellent work ethic and professionalism.

When you think of an employee of the year you want to recognize the quality and efforts of staff members which we are fortunate to have many who go above and beyond daily, but Dan stands out for his everyday calm, positive, and professional demeanor. Dan provides a smile and a hello to every person he sees daily at PCHC locations and it is appreciated by all.
PCHC is fortunate to have a Dan Binette representing us at each location and I look forward to Dan putting on another million miles for PCHC!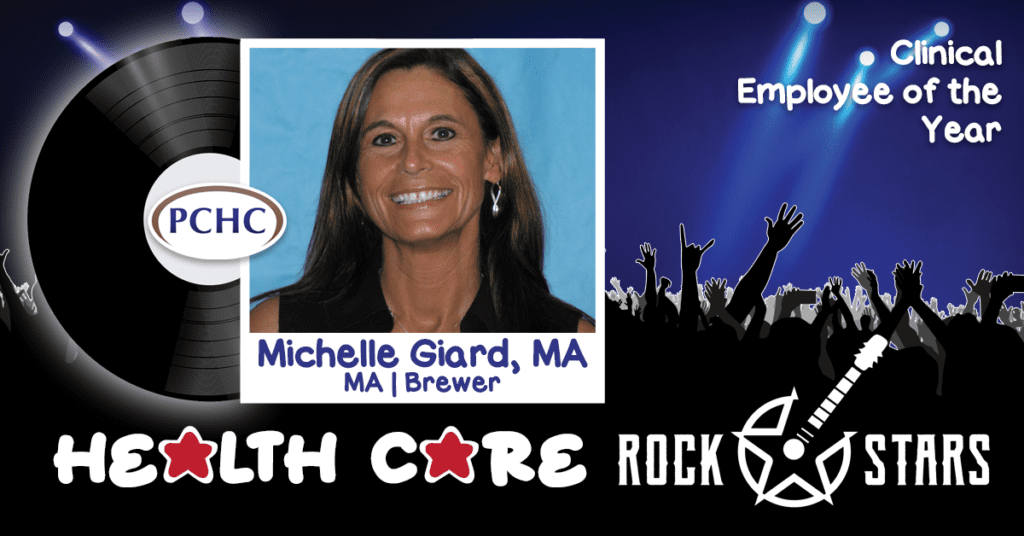 Michelle's upbeat, positive attitude is infectious wherever she goes. Many call her a "jack of all trades" she has done a little bit of everything over the years. She brings a vast amount of MA and radiology experience in which she puts to use on a regular basis by being flexible and transitioning between both roles with ease when needed. She always makes sure our patients feel valued, listened to and get the care they came to the clinic seeking. Michelle is never afraid to take on a new task, go to another site to lend a hand or pick up extra hours. Regardless of how busy she is during the day; she finds time to connect with her peers on a personal level and makes BMC a truly enjoyable place to work.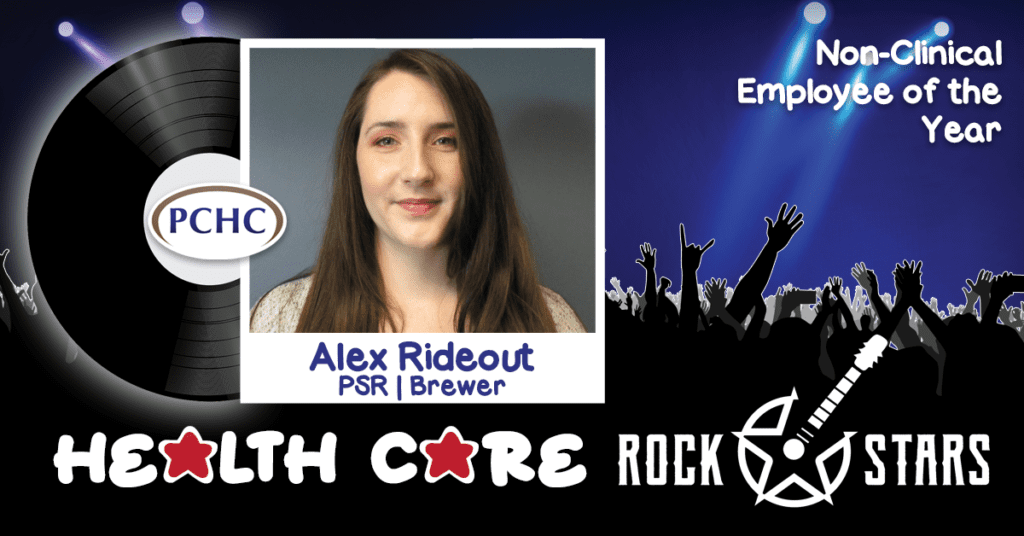 Alex started here as a waiting room navigator, always making sure our patients felt welcomed in our practice throughout the pandemic. Alex treats everyone she encounters in a kind and respectful manner. She has often picked up extra shifts and hours to help support the clinic and her co-workers during the most challenging staffing shortages and does so with a positive attitude. Alex is very compassionate and sensitive with our patients here at BMC and is an excellent example of what our mission stands for.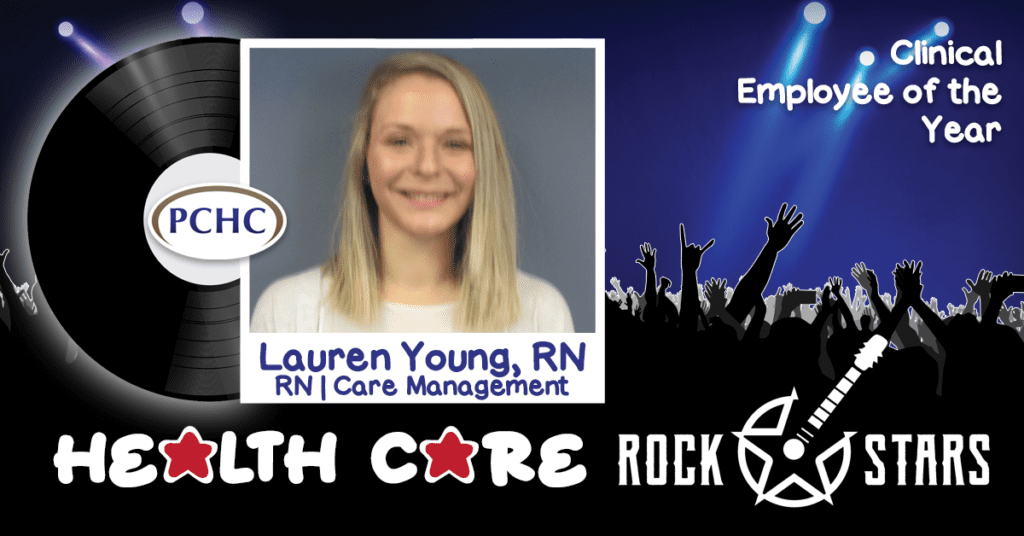 Lauren works PCHC's mission, vision, and values in every interaction she has with patients. She is wholeheartedly committed to meeting patients where they are while promoting their wellness and celebrating their successes. Lauren has a very demanding and complex patient panel and is always working hard to meet patient needs. She is focused on all patient's well-being and on multiple occasions has worked with resources and teammates to find creative ways to help motivate and encourage patients. Lauren goes above and beyond for her patients and does not stop until she finds solutions for her patients. The quality of her work is second-to-none. She helps with many patient concerns that may arise even if they are not care management patients. Lauren works diligently to understand her patients' circumstances. She listens to them with a kind heart and give explanations in ways they can understand. Lauren is an innovative problem solver who uses a team-based approach to help patients navigate tough situations. She is respectful and professional to patients and coworkers and always shows compassion. She is passionate about patient care goals and enjoys her role. She is always willing to help and is also receptive and gives great feedback and ideas to her supervisor and team. She works extremely hard to give her patients the best possible care that she can. Lauren's ability to be compassionate and empathetic is directly linked to her drive and passion to improve the lives of patients that we serve at PCHC. She works between two clinics to improve care management outreach, services, interaction, workflows, and communication. Per Winterport team- When Lauren joined the staff at Winterport Community Health Center, she made a strong team even stronger. She works humbly and tirelessly to connect her patients to all the resources available to help them navigate their conditions. She is quick to assess, interact, and notice patient needs. She has been involved in numerous emergent concerns within both clinics and getting patients quick care and attention. Per Seaport team- Lauren works with both the clinical and non-clinical teams to create awareness of patient needs to ensure that the entire care team is on the same page. This creates a better patient experience and helps to create a cohesive environment. Lauren Young is a remarkable dedicated employee for whom "above and beyond" is the norm. She is often quick to defer credit elsewhere for a job well done and works very well with all members of the multidisciplinary team. The unwavering commitment she has for PCHC's mission has been an inspiration to many. Per a coworker- "I am proud to work with her every day. In my almost 10 years at PCHC, I'm not sure I can think of a co-worker more deserving.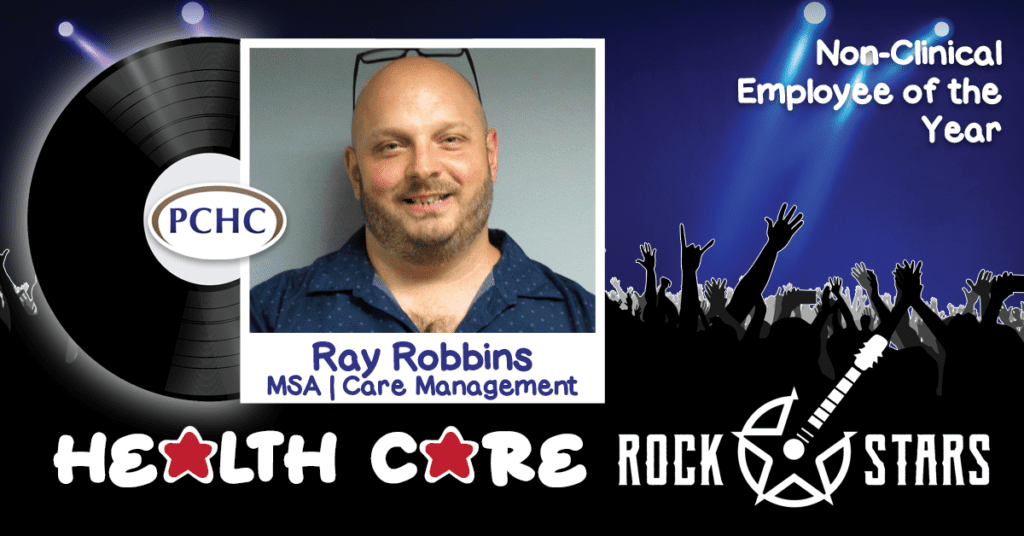 Ray is a welcomed addition to the Care Management team. He is always looking for ways to improve patient scheduling and interaction. He is very friendly to patients, and we have received positive feedback from patients that they enjoy his interaction and having a consistent contact person for care management. Ray goes above and beyond to help support our care management patients with reminders, scheduling, outreach, and communication. He always makes sure every patient is helped and directed to the right person even if he can't meet their needs. Ray is supportive to Care Management, the practices, and our patients. He has a positive influence and has worked to make his role and presence known to the practices and call center. Ray enlightens the team by acknowledging the teams hard work and is always checking in to see if his teammates or supervisor need anything. His experience and passion within care management and patient care is very valued and helpful. He has helped bring many suggestions to the table from day one. Ray has helped develop and grow this new Care management MSA position. He has been very helpful and productive in tracking schedules and care management panels and his work has helped streamline care management scheduling and outreach workflows. His work has also helped show data and support the need for additions to the care management team. Very quickly it showed that we needed additional administrative support within care management as well. Ray likes to take on challenges and has recently renewed his C.N.A certification to help field patient calls better and support needs for telehealth coverage of Medicare wellness visits. He is always thinking of ways to expand his role and job duties more to help the care management team. He communicates well with his supervisor and pertinent team members to always think of what needs to be done without being asked. Ray has been helpful in communicating changes, ideas, resources, schedules, and concerns to the team on a routine basis. He adapts to change well and helps keep the positivity to change by bringing suggestions to the team and helping us brainstorm on projects and workflow improvement.