Over The Edge 2021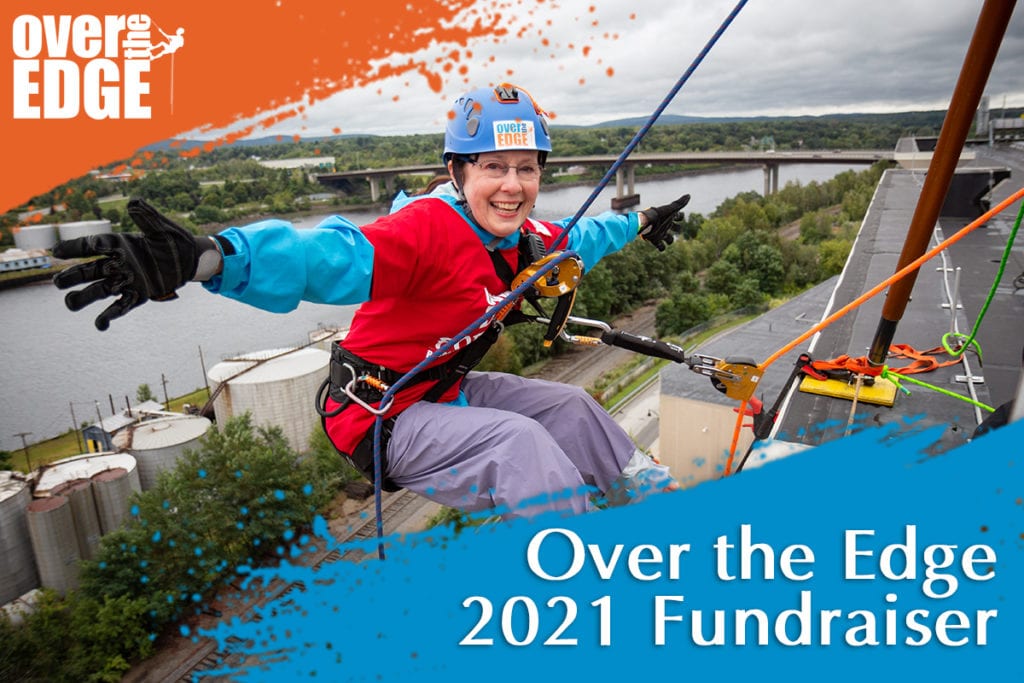 It's BACK! PCHC Is Going Over The Edge For
Head-to-Toe Wellness
Your health is much more than just physical fitness. At PCHC we know that being healthy means taking care of your mind, body, and spirit with a head-to-toe approach.
This year – coming out of the pandemic – we're doubling down on all the different services that keep us healthy. That means supporting good mental health, dentistry, recovery services, job and life skills, and everything that makes you tick. No matter what challenges you are facing, ages 0 to 100, head-to-toe, PCHC is there for your care.
On Sept. 17-18 we're asking everyone we know to go Over The Edge for head-to-toe wellness. Join us and help support our critical programs and services.
How to Sign Up
So you're interested in being a part of this event, but don't know where to start? Don't worry, we have you covered. Check out the below video for how to sign up, and check out the fundraising tiers available to you and what that means for your Over The Edge Experience!
Fundraising Tiers
| | |
| --- | --- |
| Fundraising Amount | What You Get |
| $750 – Thrill Seeker | As a Thrill Seeker participant, you'll get a t-shirt and the photo and an official Over The Edge frame for your triumphant photo. |
| $1,000 Toss Your Boss | Don't want to go over? Think about nominating your boss in our Toss Your Boss challenge. Raise $1,000 and Mondays will never quite be the same. Careful though, bosses can match your donation and choose someone else to go in their place. |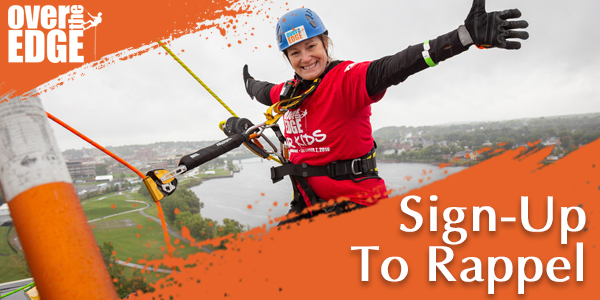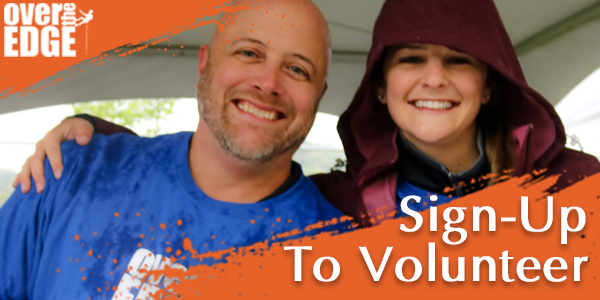 General Information FAQs
HOW CAN I GET INVOLVED?
Our Over the Edge Experience will kick off at 9:00 am with our first brave Edger! Up to 10 people an hour will be rappelling down 100 feet from the roof of the Hollywood Casino! You won't want to miss this!
1. GO OVER THE EDGE!
SIGN UP TODAY as an individual or within a team! Raise funds head-to-toe wellness, in exchange for the adventure of a lifetime: rappelling down the Hollywood Casino! Spots are limited to the first 100 people who raise $500
2. BECOME A SPONSOR
Take your community support to new heights and sponsor the Over the Edge Experience! There are several exciting sponsorship opportunities available. Contact Paige Otis at paige.otis@pchc.com or (207) 279-0435. 
3. TOSS YOUR BOSS!
Gather your coworkers and collectively raise at least $1,000 to send your boss Over The Edge! But, beware … If your boss matches the team's contribution, they can choose to send someone else Over The Edge instead!
WHAT IS OVER THE EDGE?
Over the Edge is a Canada-based special events company that provides signature events for non-profit organizations anywhere in North America. Participants are invited to raise pledges in exchange for the once-in-a-lifetime experience of repelling over the edge of a local building. In Bangor, the Over the Edge crew handles the technical aspects of the event and PCHC recruits rappellers to participate in the event and raise money for recovery services. For more information about Over the Edge USA, please visit www.overtheedgeusa.com.
HOW DOES IT WORK?
To go Over the Edge, individual participants must raise a minimum of $750. "Toss Your Boss" groups/teams must raise $1,000 and will receive sponsorship recognition based on fundraising goals. The majority of fundraising is done online through our donation portal.
IS OVER THE EDGE SAFE?
Absolutely! Over the Edge has never had a single incident or accident at any event since their inception in 2003. Every Over the Edge event is set up as an industrial worksite and as a result is compliant with all federal and state OSHA Fall Protection Standards and OSHA Federal and State Laws. Further to this, our policies and procedures adhere to the best practices identified by IRATA (Industrial Rope Access Trade Association) counsel. This counsel is a strict regulatory body that has regimented guidelines and safety protocols that far exceed the OSHA, Workers Compensation and state labor codes. To read more about safety, visit the Over the Edge site.
WHO WILL BE SETTING UP THE RAPPEL GEAR AND WHAT ARE THEIR QUALIFICATIONS?
All members of the Over the Edge technical team are IRATA and SPRAT certified industrial rope access technicians. We also rely on the help of volunteers from local fire departments, SWAT teams and AMGA Guides to assist with the ropes. All have extensive training in areas like rope rescue and/or are instructors in rope rescue or climbing.
HOW OLD ARE THE ROPES? HOW OFTEN ARE THEY INSPECTED AND BY WHOM?
The Over the Edge technical team regularly orders new ropes. They are inspected by our qualified technical staff at the start and end of each event. During the event, safety checks are performed for each person before they rappel, and every 2 1/2 hours the team re-inspects all the rigging.
DO I GET TO PRACTICE BEFORE THE BIG RAPPEL?
Yes! You will have the opportunity to practice before your big rappel. This practice session will help you get used to the harness, rappel device and technique for descending the building!
Fundraising FAQs
I DON'T HAVE ANY EXPERIENCE FUNDRAISING, HOW DO I DO IT?
Thanks to our Fundraising Portal at you can easily share your Over the Edge endeavor with friends and family near and far! When you register to go Over the Edge you will be prompted to create your own personal fundraising Web page. You can add photos, upload videos, and change the text on the page to help encourage your friends and family to support your Over the Edge efforts to benefit PCHC's expansive head-to-toe wellness approach. 
HOW DO I RAISE ENOUGH MONEY TO GO OVER THE EDGE?
You can collect

"online" credit card donations

by sending your friends and family a link to your personal fundraising page.

You can also

collect cash and check donations

by using

this form

. "Offline" donors should include your name in the memo line of checks, and checks should be made out to PCHC.

Cash and check donations can be mailed

to PCHC at PO Box 1358, Bangor, Maine 04402. We don't encourage you to mail cash — either drop it by our office at 103 Maine Avenue, Bangor, get a cashier's check to mail, or turn it in on event day.

Before you know it, your friends, family and contacts will have helped you reach your fundraising goal and you'll be rappelling down the side of Hollywood Casino!
WHAT HAPPENS IF I DO NOT RAISE $500?
Minimum Fundraising Clause: Each individual participant must reach the minimum $500 to go Over the Edge. Teams/Toss Your Boss participants must reach the minimum $1,000 to go Over the Edge.
ARE THERE INCENTIVES TO RAISE MORE MONEY?
Ground Level 

$750: Get to rappel 100' off the Hollywood Casino and receive an event t-shirt plus get an official framed picture going over the edge.

Toss Your Bo

$1000: If an individual or team raises $1,000 they get to nominate their boss to go over the edge. Careful though, if your boss matches, they can choose someone else to go over instead of them. 

Event Sponsor $5,000-50,000: If you are interested in being a major sponsor for this event call Paige at (207) 279-0435. 
Participant FAQs
DO I NEED TO HAVE RAPPELLING EXPERIENCE TO PARTICIPATE?
Not at all! We will coach you and help you to feel comfortable on event day. There will be a "Rappel School" before the descent.
ARE THERE WEIGHT RESTRICTIONS FOR RAPPELLING?
Yes, participants must be between 100-300 pounds to safely fit into the harness equipment.
IS THERE A MINIMUM AGE TO RAPPEL?
No, but minors must have their waiver signed by a consenting parent or guardian.
WHAT TIME WILL I RAPPEL ON SEPTEMBER 18?
By August 31, you will receive your scheduled time to rappel. You may request a broad time frame, (am or pm) but we cannot guarantee a time.
WHAT IF IT RAINS ON SEPTEMBER 18?
Rain or shine we are still planning on rappelling.
WHAT SHOULD I WEAR FOR THE RAPPEL?
You're going to be walking down the side of the building so wear good shoes. No sandals, slip-on shoes, slippers, flip flops, high heels or steel toed boots are permitted. Wear long pants and a long-sleeved shirt. Do not wear overly loose or baggy clothing, or clothing with draw strings. The harness goes around your legs, waist and shoulders, so it is best to avoid anything too bulky. Long hair must be tied back. You will be given a pair of gloves and a helmet to wear while you rappel.
CAN I WEAR A COSTUME?
Costumes are allowed but are subject to the same limitations as baggy clothing. Every attempt will be made to safely fit costumes around harnesses and helmets. It is ultimately the decision of the Site Safety Supervisor. Head pieces that will not accommodate a helmet, obscure your vision or are notably large or heavy will rarely be allowed.
CAN I RAPPEL WITH MY CAMERA OR OTHER VALUABLES?
We constantly worry about objects being dropped over the side, so personal cameras are not permitted. You won't have a free hand to take photos anyway!

We will have professional photographer on the roof and you'll receive the images after the event.

On event day, you will check-in droppable items like keys and cell phones, or jewelry that can get caught on things. No phones are allowed on the roof!
CAN MY FRIENDS OR FAMILY TAKE PICTURES OF ME FROM THE ROOF?
Unfortunately, friends of the participants will not be allowed on the roof top. The roof is a restricted access area. PCHC will have an event photographer taking pictures from the roof, ensuring that each participant gets a picture of himself or herself going over. However, your family and friends CAN watch from the Over the Edge celebration, which will take place down below on the grassy area behind the Hollywood Casino at the hotel entrance. This area will have the best view for photographs!
WHAT WILL THE DAY OF THE OTE EVENT BE LIKE?
Planning is still in the works, but the idea is to make it very festive! Rappelling begins at 9 a.m. and goes to 5 p.m. (unless we extend hours). Each rappeller will be announced when they rappel and cheered when they land. There will be food and fun, bring your friends and supporters!
WHAT ELSE SHOULD I EXPECT ON RAPPEL DAY?
Are You Convinced? Ready To Go Over The Edge?