Over The Edge Volunteer Registration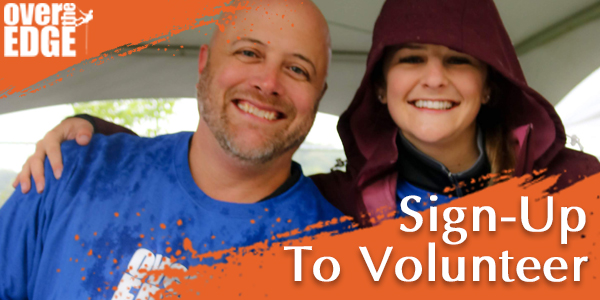 Don't want to actually go Over The Edge but want to still participate? We have just the opportunity for you! This two-day event requires an awesome team of people, pitching in and helping to make the weekend an amazing one.
By volunteering for our event, you get to be a key part of our crew, whether it's helping with the ropes, or keeping our guests fed and hydrated at our snack and water stations, you'll make a huge difference in the weekend, and get a front-row seat to all the action.
Fill out our quick and convenient online volunteer registration form and share it with your coworkers, friends, and family and get everyone involved. Once you register, someone from our team will be in touch soon with the next steps. We can't wait to see you on Sept. 17th and 18th.
Over The Edge Volunteer Registration
Registration for Over The Edge Volunteers