PCHC Dental Center Launches New Accessible Care Room
February 26, 2021
BANGOR, Maine, Feb. 23—Penobscot Community Health Care's Dental Center has opened a new service for patients for whom routine oral care is not always easy, another milestone toward providing universally accessible dental care. A new exam alcove at the center was custom built to specialize in caring for patients with physical disabilities, making it possible for people who rely on wheelchairs or even stretchers to visit the dentist.
The new facility saw its first patient last week, and PCHC expects visits to increase for a population that can fall through the cracks when it comes to basic procedures—or even preventative care.
"The addition of the ADA (Americans with Disabilities Act) operatory opens our doors to patients with the inability to transfer from a stretcher or their wheelchair," said Dental Clinical Operations Supervisor Brittany Hill. "A lot of times patients in these cases are unable to comfortably seek preventative care, or they wait until an emergency arises. While we have always taken measures to make accommodations for people with different capabilities, this really demonstrates a commitment to caring for everyone in the safest, and most respectful way possible."
The room was created by joining two existing care cubicles, called "operatories," in an open-space concept. A special chair-tilt device allows wheelchair users to remain seated while moving the entire chair into an ideal position. Patients can remain comfortable while in the best ergonomic position for a provider to give treatment.
"The ergonomics of having the wheelchair tilt will allow a better field of vision and allow our providers to offer even better care –cleanings or treatment to hopefully prevent those emergency situations," Hill said. "This operatory will help create that trusting connection–knowing that we have equipment that will make patients' visits safer and more comfortable."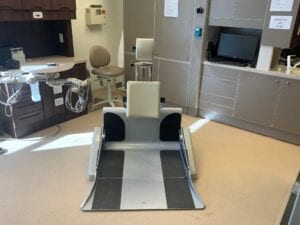 The chair lift is mobile as well, and with a few turns of the knobs at the base of the device, it can be moved to anywhere in the room, to create more space. For instance, if a patient arrives on a stretcher and cannot move to a chair, the chair lift can be removed from the room altogether, creating a safe space unavailable in smaller operatories. This versatility may represent a small change, but it means big things for patients apprehensive about being seen.
"It really opens up access to so many people who have been hesitant to come in, for fear that we wouldn't have a space big enough or enough adaptive equipment to meet their needs," Hill said.