Tight-Knit Hygiene Team Provides Experience and a Steady Presence at Dental
April 15, 2022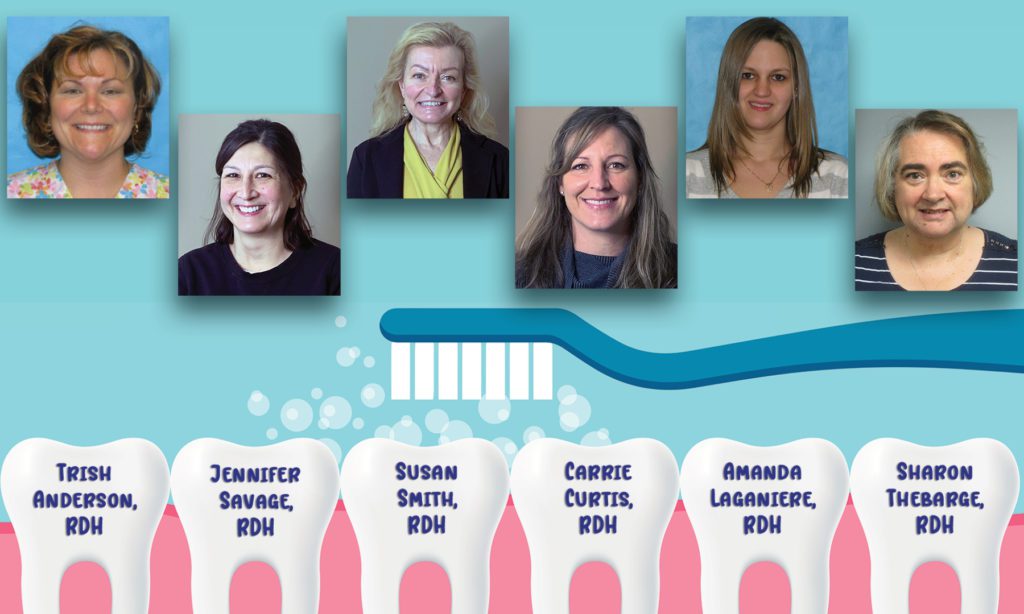 Restructuring and new leadership have brought lots of change to the Dental Center. One thing that hasn't changed much in more than a decade: is the tight-knit hygiene team. Our dental hygienists have been like glue during the transition—bringing new groups together and focusing on morale and fun. To celebrate National Dental Hygienist Week, we wanted to highlight this special group.
The clinic features a roster of six hygienists with more than 70 years of experience collectively here at PCHC. It's readily apparent, however, that the number of years isn't the big deal; it's how amazingly close this crew is.
"We've just been through a lot together," said Amanda Laganiere, RDH. "Not every day do I want to get up and come to work, but I am guaranteed to laugh. In the last few months, I've been through a lot of personal struggles. And those girls have been here for me. And I don't know what I would do without them."
Carrie Curtis, RDH echoed those sentiments when sitting down with members of the team, noting that what they've built at the Dental Center isn't commonly found.
"I feel like if you were to go into private practice, with this many hygienists, I'm not sure you'd have that same bond," Curtis said. Laganiere added "I think our dynamic is unique. I have a few hygiene friends that also work in other FQHCs throughout the state. And it's not the same picture that's painted. So I'd like to think it's that we work well together, and we are all family-oriented."
Who benefits from such a close team and job longevity? Patients, especially, said Laganiere, noting that some patients have the same hygienist caring for their teeth for years.
The team's continuity also brings a calming presence to new employees – from administrators to graduates of the new dental assistant training program and even to new dentists.
"I think we give new people that come in a great sense of comfort," Curtis said. "We have a lot of new assistants and I think we're all super inviting and welcoming. We can help you take an x-ray, and get the answer that you need, even if we don't know what it is. For dentists that come in, we know where to find things. We know how referrals work. We can be a great resource."
That institutional knowledge has been integral in day-to-day planning but has also may gone a long way in shaping the future of the practice, as the dental hygiene teams shares perspectives with new leadership.
Ultimately, the patients are the main focus of the DH team's work.
"We see a lot of patients with extensive medical histories, who are maybe not the healthiest or have the best access to care. Maybe they haven't seen the medical world for a while. So coming in and teaching them about how issues may be intertwined. Explaining, `you have uncontrolled diabetes, and here is how it's affecting your mouth.' For me the rewarding part is teaching people the connection between overall health and dental health," Laganiere said.
Curtis noted that sometimes the most meaningful interactions may not even be dental-related, but have an impact on mental health and wellness.
"Sometimes patients may come in and just want to talk and it could have nothing to do with teeth. But we just listen. We see patients who maybe don't have a lot going on outside of the dental world and this is a way to socialize and connect."
On behalf of everyone at PCHC, we want to thank all of the members of our dental hygiene team. You are so incredibly valued for who you are and what you do!